instruments:radiation:radiation
Table of Contents
Radiation Sensors
Principle
Two pyranometers (CMP 21), a pyrheliometer (CHP 1) and a pyrgeometer (CGR 4) are used to measure solar shortwave radiation and terrestrial longwave radiation. One pyranometer receives total downward solar irradiance. The other instruments are mounted on a suntracker (SOLYS 2) measuring diffuse downward solar irradiance (shaded pyranometer), direct solar irradiance (pyrheliometer) and terrestrial downward irradiance (shaded pyrgeometer). All instruments were produced and calibrated by Kipp&Zonen B.V., Netherlands.
Instrument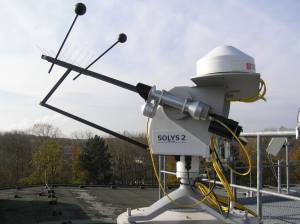 Suntracker SOLYS at Forschungszentrum Jülich on the roof of the IEK-8 (Institut für Energie- und Klimaforschung: Troposphäre).
Data
If you are interested in receiving data data please contact:

B. Bohn
History
| Period | Place | Project |
| --- | --- | --- |
| April 2014 - today | Forschungszentrum Jülich | JOYCE |
Total solar irradiance measurements started in 2006, pyrgeometer measurments in 2011, suntracker measurements in 2014.
Specifications
| Parameter | Specification | Remark |
| --- | --- | --- |
| Total solar irradiance (CMP 21) | Secondary standard (WMO) | |
| Diffuse solar irradiance (CMP 21) | Secondary standard (WMO) | shaded |
| Direct solar irradiance (CHP 1) | First class (WMO) | tracked |
| Terrestrial irradiance (CGR 4) | Certified calibration | shaded |
| Manufacturer | Kipp & Zonen B.V., NL | |
| Data logger (CR3000) | 16-bit | 5 s time resolution |
| Manufacturer | Campbell Scientific Inc., UK | |
instruments/radiation/radiation.txt · Last modified: 2021/01/22 22:17 by 127.0.0.1
---